What is Social Media Marketing?
Social media marketing is the use of internet based channels such as Facebook, Twitter and Google Plus to build a following or promote your specific products. It enables consumers and businesses to communicate more efficiently.
Social Media Marketing and Search Engine Optimization go hand in hand. While you grow with social networking, the business's search engine ranking will increase as a result of your popularity. This will signal to search engines that you are an authority in your market according to your human audience.
In addition to it perfectly dovetailing SEO, Social Media Marketing allows you to improve your customer service and customer relations for your business.
Let us help Build your Fan-Base:
We offer a wide variety of options to give your business the Social Media exposure it needs to compete in today's market. Whether you are in the beginning stages or already set up in need of management, we will take your business where it needs to go.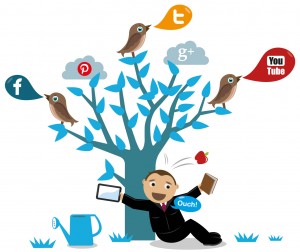 Increased brand awareness and relevant website traffic.
Monitored conversations about your brand.
Develop marketing activities to engage with your target audience.
Referrals of potential customers through social channels.
 Keeping audiences up to date with the latest events or brand information.
 Strong trusting relationships with your followers and fans.
Monthly statistical reports on your channel's progression.
More passing juice for major search engine rankings.
Fresh, keyword rich content.
Free up time for you to do what you do best!
Commitment to Fresh Content:
We strive to ensure that our clients' needs are thoroughly met by reaching the objectives set. We will commerce with our clients on a monthly basis to discuss new information, offers, promotions, and news that we could use on the social media channels that audiences would find engaging.